MASTERCLASSES/WORKSHOPS AT THE ACOUSTIC GUITAR VILLAGE inside CREMONA MUSICA INTERNATIONAL EXHIBITIONS AND FESTIVAL
CREMONA FAIR
Masterclass of lutherie for acoustic guitar 
Friday 28th, Saturday 29th, Sunday 30th September 2018
Masterclass room 1 of the Cremona Fair offices
Teachers: M° BRYAN GALLOUP (US) and M° CHARLES FOX (US)
Translation and assistance by M° Max Monterosso and  M° Piero Guagliumi
Cost of 230,00 euros
Program of the masterclass:
M° BRYAN GALLOUP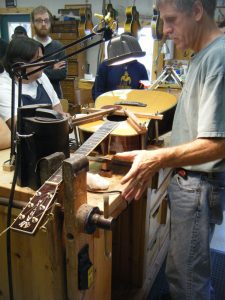 Bryan Galloup is an American luthier with more than 35 years of experience under his belt. Michigan based, he has always had the mission of building instruments of excellent quality, with the perfect look and tone for the professional musician. He has always perfectly mixed traditional building with new technologies, and his guitars are proof of his research towards excellence and attention to the smallest details. Each guitar he has build shows his deep knowledge of this instrument and of its evolution.
His School of Lutherie is recognized worldwide and considered by many experts a perfect training in the education of future professional luthiers. Bryan is also one of the most expert luthiers regarding the restoration of vintage instruments, a point of reference for collectors all over the world. www.galloupguitars.com
1st day, Friday 28th September, from 10am to 1pm:
Fretting; demo/hands on/lecture
From material selection to final buff, fret work is the single most important topics that affect every guitar's playability and every player's performance. In this class we will move through every aspect of fretting, re-fretting and related issues.
Topics covered are:
– Instrument evaluation
– Identifying fret related issues
– Choosing fret wire
– Fret removal
– Leveling fretboards
– Fret slot preparation
– Cleaning fret slots
– Routing fret slots
– Prepping fret wire
– Gluing frets
– Hammering in frets
– Pressing in frets
– Fret dressing
– Fret re-dressing
– Addressing loose fret ends
– Leveling frets
– Polishing frets
2nd day, Saturday 29th September, from 10am to 1pm:
 Acoustic Structural Repair and the Vintage Guitar; demo/slide show
Identifying repair issues to be performed, while retaining the integrity of the instrument, is the key when deciding your approach in maintaining sound acoustic performance. Too often, unwarranted procedures, that shorten the life of the instrument and kill tone, are performed when other more conservative paths are the better choice. In the class, we will discuss how to identify and separate what are normal structural stresses from abnormal structural issues that will lead to a system failure.
Topics covered are:
– How does the acoustic guitar work
– Identify excessive load
– Loaded tops and backs
– Evaluating the guitar
– What to look for
– What to look out for
– What is expected to be normal
– Excessive repairs
– Sound structural maintenance
– How repairs can affect the tone
– How repairs affect the vintage value
– What repairs in the past have held up over time
– What are the bottom line topics
3rd day, Sunday 30th September, from 10am to 1pm:
Humidity and Related Issues; lecture/demonstration/slide show
Excessive humidity or the lack there of, is the single most important issue that will cause irreversible damage to any acoustic instrument. It is also the single most overlooked topic technicians, makers, and players neglect to monitor to ensure sound acoustic guitar performance. In the class, we will discuss the most common humidity issues related to the guitar.   
Topics covered are:
– What are humidity related issues
– What are average humidity ranges
– What is the ideal humidity range for a shop or store
– Using a sling psychrometer
– Psychrometer vs. digital meters
– How to identify humidity issues
– How to separate humidity issues from structural issues
– What humidity issues can be reversed
– How humidity effects tone
– The life of the instrument
– What to be concerned about and
– What is too be expected
– Acoustic guitar cracks
– What are the most common type of cracks and
– How to identify their cause
– How to determine the best repair approach and
– What will yield the best results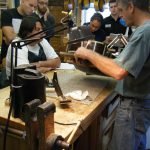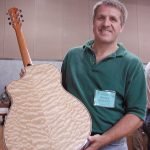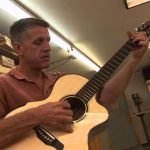 M° CHARLES FOX (Usa)
Charles Fox has been active in the development of modern American lutherie for 50 years and he enjoys an international reputation as an artisan, designer, consultant and educator.  His original design concepts, building techniques and production tools, such as the Universal Side Bender, are widely used by guitar builders and factories all over the world.  Charles has been referred to as the dean of educators in the field of guitar making, having founded the first school for guitar makers in North America in 1973 and since then introduced generations of folks to the craft, including many of today's successful luthiers.  Today Charles builds guitars and teaches small classes in his Portland, Oregon workshop, imagining that he's retired, for at least twelve hours a day.   www.charlesfoxguitars.com
Lutherie Tooling for the Small Shop
There are many ways to practice the craft of lutherie.  Thanks to globalism, post-modernism and the internet information explosion, our freedom to go about creating instruments in any way we prefer is a unique to guitar making at this moment in history.  Somewhere between either making guitars one at a time with hand tools or using computerized machines to produce a steady stream of product, there's an approach to guitar making that's just right for each of us – an approach that maximizes both the quantity and the quality of our work while also providing satisfaction and inspiring our personal growth.
Just as there are many ways to practice this craft once we've got it up and running, there are also many 'keys', or means that we can use to unlock the door and enter into the craft.  Guitar making is a richly multi-dimensional, multi-faceted and multi-disciplinary craft – it is so comprehensive that every individual can enter into it through his/her own particular personal strength.
My own approach to guitar making involves the liberal use of jigs & fixtures and other shop-made devices that enhance the accuracy and consistency of my work.  Working this way is a natural expression of my structured approach to understanding things.  One product of my working in this systematic way is the Universal Side Bender, used by guitar makers and factories all around the world.
This master class, Lutherie Tooling for the Small Shop, will introduce participants to many versatile tools that they can adapt to their own uses, and ways of creating new tools to satisfy their own requirements in their own workshops.  For three hours each afternoon for three days we'll explore the subject of lutherie tooling from the perspectives of design, execution, and use. 
1st day, Friday 28th September, from 2:30pm to 5:30pm:
Topics covered are:
– Principles of controlled guidance and subtractive forming
– Fixtures as extensions of standard woodworking tools
– How to analyze a task and design tools to optimize the intended results
– Basic materials and components for shop-made tooling
– Designing tools with 3D modeling software
– Efficient methods for constructing and refining shop tools
– Simple lutherie tools for guiding, shaping, sizing and locating.
– Jigs & fixtures for the table saw, drill press, belt and disk sander,
shaper and table router.
2nd day, Saturday 29th September, from 2:30pm to 5:30pm:
Topics covered are:
– Creating universal shop tooling
– Vacuum devises for clamping and work holding
– Creating more specific, complex tooling
– A complete tooling system for creating solid body electric guitars
– Making tools for making more tools
3rd day, Sunday 30th September, from 2:30pm to 5:30pm:
Topics covered are:
This afternoon is focused on creating lutherie tools for research, analysis and the voicing of acoustic guitars.
We'll demonstrate an integrated tooling system for analyzing materials, and for measuring and controlling the acoustic behaviors of both guitar plates and complete assemblies.
Masterclass of didactic techniques for acoustic guitar
Friday 28th, Saturday 29th, Sunday 30th September 2018
Masterclass room 2 of the Cremona Fair offices
 Teachers: M° MICKI PIPERNO (IT), M° CLIVE CARROLL (UK), M° JOHN JORGENSON (US)
Translation and assistance by Camilla Conti
Cost of 230 euros
Program of the masterclass:
M° MICKI PIPERNO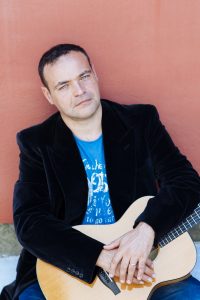 Michelangelo "Micki" Piperno is an acoustic guitar teacher, an internationally known performer and a composer of contemporary music. With his steel string guitar, he combines the sound and knowledge of the American guitar tradition with echoes of classical and Mediterranean guitar, at the service of song and melody, that he deems essential to communicate the world of acoustic guitar.
He has worked as a composer for cinema, television and theatre, also writing didactic articles for specialized magazines Chitarre and Axe. He has published for Sinfonica Jazz the manuals Manuale di chitarra moderna and Suonare la Teoria – voll.1 & 2, Corso Completo di Chitarra Acustica, Lezioni di chitarra Acustica e Classica Fingerstyle Vol. 1, and for Fingerpicking.net the books of original compositions for acoustic guitar Original Composition and Freestyle.
1st day, Friday 28th September, from 10am to 1pm:
Basics of modern Harmony
Techniques of Fingerstyle arrangement
Basic and advanced techniques for the right hand
Harmonizing a theme
Embellishment phrasings to enhance your arrangement
Alternate Bass, different formulas and possible applications
Correct posture and respiration while practicing and performing
Amplifying the acoustic guitar
2nd day, Saturday 29th September, from 10am to 1pm:
Study of a piece from the American tradition
Analysis and collective study of the song that will be performed on the last day of the Masterclass
Other elements of embellishment and improvisation: Harp Style and Bluegrass licks
Advanced techniques of Alternate Bass
Steady Bass
Classical guitar techniques on the acoustic guitar: tocco volante, appoggiato and different types of vibrato
3rd day, Sunday 30th September, from 10am to 1pm:
Harmonics
The Walking Line Bass
Study of a piece from the fingerstyle Blues tradition
Introduction to the Chord Melody
Performance by the students
Once your registration is submitted, all the study material needed to attend the course will be available to be downloaded from the website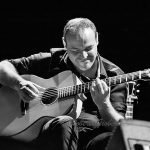 M° CLIVE CARROLL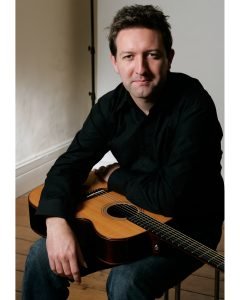 Clive Carroll was raised in a family with deep bluegrass and Irish musical roots. It's the encounter with John Renbourn in 1998 that spurred this precocious and brilliant acoustic guitarist to publish his first solo album, "Sixth Sense", defined by british critics as a milestone in the journey of acoustic guitar. From that moment his career has been a constant ascent in the international guitar world; he is today one of the most sought-after guitar performers in the world and his fame is destined to keep growing, as predicted by artists such as Tommy Emmanuel and John Renbourn, who shared with him several tours and festivals. The musical variety of his compositions is remarkable, combined with immaculate, complete and stylistically varied technique, expressed with amazing effortlessness.
2 great pieces and useful techniques for solo guitar
1st day, Friday 28th September, from 2pm to 4:30pm:
Clive will be teaching the classic Beatles song "And I Love Her" which incorporates the use of familiar chord shapes and melody played simultaneously. Clive will also teach and demonstrate how to improvise over the chord sequence so that you can turn this beautiful tune into a full arrangement for solo guitar.
Sheet music and TAB will be provided.
 2nd day, Saturday 29th September, from 2pm to 4:30pm:
"Elizabeth Kelly's Delight"
Clive will be teaching this well known Irish traditional melody in DADGAD guitar tuning. It is a very infectious tune which will have your foot tapping for weeks! Sheet music/TAB will be provided on the day, and it is only one page long! Once the group has learnt the melody, Clive will then show you how to add bass drones, how to create rhythmic grooves, and how to harmonise and re-harmonise the chord sequence!
You are going to gain maximum benefit from the Cremona Masterclass if you can already play the standard chords in first position, a few barre chords, and you can play a few solo guitar pieces.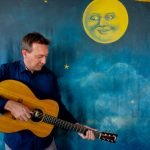 M° JOHN JORGENSON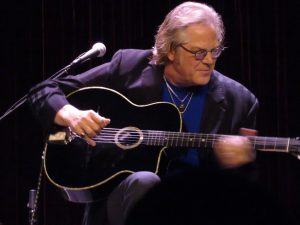 Grammy-winning guitarist John Jorgenson is known as the "US Ambassador of Gypsy Jazz" and is internationally acclaimed as a virtuoso guitarist as well as a multi-instrumentalist who has played for artists as diverse as Luciano Pavarottiand Bob Dylan.  Over the course of his 40 year career he has been a founding member of the multiple chart topping country group the Desert Rose Band, award winning guitar trio the Hellecasters,  toured for 6 years with Elton John, and performed on television and recordings with Roy Orbison, Bonnie Raitt, Bob Seeger, Johnny Cash, Tom Petty, Earl Scruggs and countless other world class artists.
1st day, Friday 28th September, from 4:30pm to 6:30pm:
"Introduction to Gypsy Jazz"
Aimed at players who already have some skill on the guitar but are relatively new to Gypsy Jazz, the workshop will cover basic techniques in rhythm and lead playing including chord shapes, picking, tone, phrasing, equipment and foundations of music theory. This specific workshop will be tailored to the needs and skill levels of the attendees, with each participant receiving individual attention as well as class time.
3rd day, Sunday 30th September, from 2pm to 4:30pm:
"Improving Improvisation"
In this second part the masterclass will cover how to expand the ability to improvise solos. Included in the class will be theory, musical phrase development, and how to add dynamics and emotion to solos, as well as how to keep an audience engaged.