MASTERCLASSES/WORKSHOPS AT THE ACOUSTIC GUITAR VILLAGE inside CREMONA MUSICA INTERNATIONAL EXHIBITIONS AND FESTIVAL
CREMONA FAIR
Friday 25th, Saturday 26th, Sunday 27th September 2020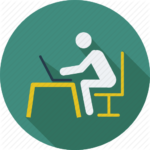 WORK IN PROGRESS
---
Program of the last 2019 edition:
Masterclass of lutherie for acoustic guitar 
Friday 27th, Saturday 28th, Sunday 29th September 2019
Masterclass room 1 of the Cremona Fair offices
Teachers: Maestro KEN PARKER (US) – Maestro MICHAEL GREENFIELD (Canada) – Maestro DANA BOURGEOIS (US)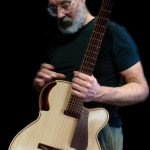 Translation and assistance by M° Max Monterosso, M° Mirko Borghino and  M° Piero Guagliumi
Cost of 230,00 euros
DOWNLOAD REGISTRATION FORM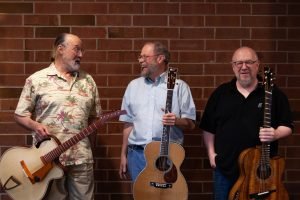 Program:
Master Luthier KEN PARKER  www.kenparkerarchtops.com
Though most players know Ken Parker because of the innovative guitar he and Larry Fishman designed and introduced under the Parker Guitars brand in 1993—the Fly—he has been obsessed with archtops for decades. Given the Fly's striking ergonomics, composite-covered body, carbon-fiber fretboard, and proprietary, multifunction tremolo—all of which made it one of the most unique and successful new solidbody designs of the last 20 years—it should come as no surprise that Parker's obsession is now advancing the art and science of archtop guitars. But that shouldn't overshadow the fact that he does it all because he's striving to inject the playing experience with real joy: "To me, if a guitar isn't fun to play—if it doesn't put a grin on your face and beckon you from the corner of the room—what is it for?"
Tradition Evolves
1st Day – Friday 27th, from 10:00am to 1:00pm
I will explain my life's journey in instrument making, invention, innovative design, and tool making.  I'll share some lessons learned and discoveries made that have been most important to me, and show how it has all come together in the acoustic arch top guitars that I'm building now.
I will cover all aspects of tool geometry and cutting tool design, a crucial building block for the luthier, looking at tools and methods that work especially well.  We will see how our traditional tools can be improved by applying this understanding.  I will demonstrate some hot rod hand tools useful to luthiers, and show the real world benefits of understanding tool design.
We will discuss the job of the contemporary luthier, the evolution of instrument performance driven by the needs of  contemporary musicians, and how our useful innovations can empower the musicians who use our instruments as tools for their expression and craft.
2nd Day – Sunday 29th, from 10:00am to 1:00pm
students will be encouraged to bring their work problems to be examined and (ideally) solved, or mysteries to be explored.  These may be tools that don't work well, materials that pose unusual challenges, or a process that seems too difficult, time consuming, or unpredictable.
I will discuss how modern composite materials can best be applied to guitars, explaining their special properties, benefits, and limitations.  We'll look at how composites can support and blend with wood to solve some fundamental problems in guitar making.
Also we will study some traditional techniques used to build ancient instruments,and to recall what may have been "lost" traditional methods that have relevance today.
Master Luthier MICHAEL GREENFIELD  www.greenfieldguitars.com
While playing music professionally in the 1970s, Michael Greenfield began setting up and repairing electric guitars. By the 1990s, this evolved into a career repairing and restoring vintage and antique guitars. Having had the opportunity to examine so many of those iconic pre-war and early 20th century instruments was an invaluable education. Michael was able to examine, measure, play and HEAR those wonderful guitars! He brought all of this to his craft and current work. His goal is that every musician is not just satisfied but thrilled with the new guitar and each commission begins with a personal consultation. The resultant choice of model, specifications, materials and options combine to make the Greenfield Guitar a truly one-of-a-kind instrument.
1st Day – Friday 27th, from 2:30pm to 5:30pm
Business systems for small-shop guitarmakers
The importance of maintaining and using accounting systems, time management, template documents, published price lists, your ordering and pricing policies, collecting deposits and price guarantees, managing the customer experience, communicating with customers and configuring guitars, the contract, customer engagement, the importance of the interim payments and dealing with special orders – left hand, etc.
Beginning work, work orders/build sheet, the importance of redundancy and double checking
Collecting final payment
Delivery
International shipping (CITES, etc.)
Agents and dealers
Purchase orders
Deposits
Contracts
Workshop and data management
Using ShopFlow
Journalizing data
Throughput
Identifying the bottle neck
Instrument records
Wood management and inventory control
Dealing with CITES, Lacey (USA) and the future
Employee/apprentice training
R.F.I.D. tags
2nd Day – Saturday 28th, from 2:30pm to 5:30pm
The Invisible Guitar
The instrument we love…. the guitar! The handmade acoustic guitar and its culture have become very fashionable. Consequentially, we are being bombarded with information. Social media, internet discussion forums and boutique guitar galleries are all contributing to the cacophony. But where does the object end and the musical instrument begin? A look into the world of the invisible guitar; the guitar we cannot see. What are the elements that influence a guitar's voice? What about tonewood? What will contribute to the legacy, stability and playability of a guitar. The Invisible Guitar is an offering and discussion of the details the luthier should really be considering when crafting a guitar.
Open Q & A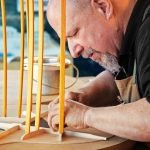 Master Luthier DANA BOURGEOIS  www.bourgeoisguitars.net
Dana Bourgeois is a luthier, writer, lecturer and is considered one of the United States' top acoustic guitar makers. Bourgeois's innovations in design and voicing techniques have earned him worldwide acclaim for his acoustic guitars from professional players, hobbyists and collectors alike. Some notable musicians playing Bourgeois guitars include Luke Bryan, Ricky Skaggs, Bryan Smith, Ry Cooder, Scott Fore, Bryan Sutton, Vince Gill, Lee Roy Parnell, James Taylor and Guy Clark.
Dana started his own company, Bourgeois Guitars, in 1993 and was located at Roy Continental Mill in Lewiston, Maine. His use of premium materials, such as Brazilian rosewood, Adirondack Spruce and Indian Rosewood, as well as his ability to "voice" his instruments earned Bourgeois a reputation within the music world as an expert luthier. Using a tapping method, he fine tunes individual pieces at key times throughout the manufacturing process. This high-quality sound distinguished Bourgeois from other luthiers and began attracting the attention of top musicians.
Voicing a traditional steel string guitar
1st Day – Saturday 28th, from 10:00am to 1:00pm
The first session will consist of a slide show presentation. The following topics will be addressed:
– The physics of coupled oscillators
– Optimizing stiffness characteristics and resonant frequencies
– My step by step voicing method
I will demonstrate my voicing method by shaping the braces of several tops and backs. As I work, I will explain my step by step procedure and answer any questions.
2nd Day – Sunday 29th, from 14:30pm to 17:30pm
In the second session each participant should bring a braced top, either finished or unfinished.  I will offer individual guidelines to participants who wish to work on their tops during this session. Finished tops will be critiqued and compared to the tops that I voiced during the prior session.
My objective is to help participants develop their own approach to voicing. Participants will be encouraged to adopt as much or as little of my method as they find valuable. The goal of my critiques will be to illustrate differences between my results and results obtained by participants.
Participants who wish to work on tops must bring their own tops, tools, and a towel or pad to protect the top while working.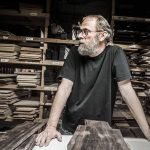 Masterclass of didactic techniques for acoustic guitar
Friday 27th, Saturday 28th, Sunday 29th September 2019
Masterclass room 2 of the Cremona Fair offices
 Teachers: Maestro MICKI PIPERNO (Italy) – Maestro PIERRE BENSUSAN (France)
Translation and assistance by Camilla Conti
Cost of 230 euros
DOWNLOAD REGISTRATION FORM
Program:
Maestro MICKI PIPERNO  www.mickipiperno.com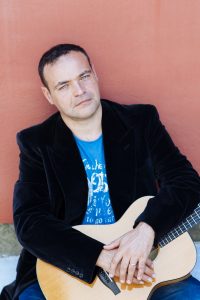 Michelangelo "Micki" Piperno is an acoustic guitar teacher, an internationally known performer and a composer of contemporary music. With his steel string guitar, he combines the sound and knowledge of the American guitar tradition with echoes of classical and Mediterranean guitar, at the service of song and melody, that he deems essential to communicate the world of acoustic guitar.
He has worked as a composer for cinema, television and theatre, also writing didactic articles for specialized magazines Chitarre and Axe. He has published for Sinfonica Jazz the manuals Manuale di chitarra moderna and Suonare la Teoria – voll.1 & 2, Corso Completo di Chitarra Acustica, Lezioni di chitarra Acustica e Classica Fingerstyle Vol. 1, and for Fingerpicking.net the books of original compositions for acoustic guitar Original Composition and Freestyle.
1st day, Friday 27th September, from 10am to 1pm:
• Foundations of modern harmony applied to acoustic guitar styles
• Fingerstyle arrangement techniques
• Alternating bass, different formulas and the possibility of use
• Basic and advanced techniques for the right hand in folk guitar
• Harmonize a famous theme with alternating bass
• Embellishment phrases to enhance your arrangement
• Study the song Nashville Swing (M. Piperno)
2nd day, Saturday 28th September, from 10am to 1pm:
• Study a traditional American song, Guitar Rag (M. Travis)
• Analysis and group study of the song
• Other elements of embellishment and improvisation: Harp Style and Bluegrass licks
• Insertion of embellishments studied within a blues and ragtime structure
• Advanced techniques of alternating bass
• Constant bass
• Vibrato techniques on acoustic guitar
• Amplify a live acoustic guitar
3rd day, Sunday 29th September, from 10am to 1pm:
• Harmonics, formulas and different types
• The Walking Line Bass and harmonic rounds
• Scales and Harp Style techniques
• Study of the Fingerstyle arrangement of the song Quando by Pino Daniele (Arr. M. Piperno) to demonstrate the synthesis of the topics studied during the course in a pop song
• Improvisation elements to be included in the piece
Once your registration is submitted, all the study material needed to attend the course will be available to be downloaded from the website
Maestro PIERRE BENSUSAN  www.pierrebensusan.com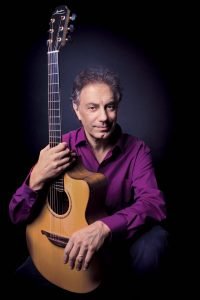 Pierre Bensusan's workshops are open to any guitaristplaying fingerstyle on steel strings or nylon strings, fromevery musical horizon, whatever the tuning, and who has already achieved an intermediate or advanced technicallevel.
Pierre Bensusan plays exclusively in DADGAD tuningand is recognised to be the world leader in hisdiscipline. His approach to this tuning is defined by the fact that he does not see it as an alternative, but as a native tuning, that he chose to exploreits specific sonicmood and that he embracedas his own standard tuning. While the class is not about DADGAD per se, Pierre will share his experience of the guitar tuned in thismanner, which can become a portal for endlessexplorations.
Pierre's classes are based on a large concept which is that, whatever the style and whether the focus is on interpreting, improvising or/and composing, the player needs to express music on the instrument thanks to a process which isanalysed and optimized throughout the length of the class.
Reference Instructional Material :
– The Guitar Book (Hal Leonard)
– Dadgad Explorer (DVD/Download – Truefire, USA- website)
– The Intuite PDF Collection Songbook (PDF – website)
– The Altiplanos PDF Collection Songbook (PDF – website)
– The Vividly PDf Collection Songbook (PDF – website)
– The Nice Feeling Collection (PDF – website)
– The Dadgad Café Collection (PDF – website)
– The 4 AM Collection (PDF – website)
– The Celtic Collection, Vol. 1 (PDF – website)
– The Celtic Collection, Vol 2 (PDF – website)
– Individual Sheet Music (PDF – website)
– In Concert (DVD – Vestapol Videos, USA – website)
– PB, Instructional #1 (DVD – Stefan GrossmanWorkshop, USA – website)
– PB, Instructional #2 (DVD – Stefan GrossmanWorkshop, USA – website)
1st day, Friday 27th September, from 2pm to 5pm:
Playing and experiencing music, the touch on the guitar, the posture, the strings, the musical approach, the ear training, the tuning process, the art of listening, singing, memorizing, rhythmic independence, dynamic, inspiration.
2nd day, Saturday 28th September, from 2pm to 5pm:
Introduction to DADGAD, notions of harmony and chord construction, exploration of scales and modalities through the application of various approaches and techniques of the right and the left hand, rest and silence, learning to be able to anticipate, improvisation.
3rd day, Sunday 29th September, from 2pm to 5pm:
Effects, nuances, timbres, nails, vibrato, harmonics, tapping, muting, interactive listening of the students who play, memorize and compose their music.