The Acoustic Guitar Meeting began in May 1998 and for the first 6 years it has been held in the old beautiful teather of  Sarzana, "Teatro degli Impavidi". From 2004 it moved to the fortified castle "Fortezza Firmafede" and in the years has become one of the most important international events dedicated to the acoustic guitar and its music, a focal point in the field of artistic research, the building and retail of this fascinating widespread musical instrument.
In 18 years, many amazing guitar players have performed successfully in Sarzana:
Fabrizio Di Salvo, Marco Galvagno, Franco Morone, Tim Sparks, Roberto Menabò, Armando Corsi, Beppe Gambetta, Woody Mann, Giangi Sainato, Balen Lopez De Munain, Paolo Giordano, Riccardo Zappa, Giovanni Unterbarger, Alex De Grassi, Stefano Tavernese & Marco Manusso, Paul Stowe, Bob Brozman, Andrea Benzoni, Tomas De Los Reyes, Mario Arcari, Franco Cerri, Stefano Cerri, Peppino D'Agostino, Duck Baker, Tommy Emmanuel, Walter Lupi, Darko Jurkovic, Peter Finger, Alessandro Valle, Flaco Biondini, Claudio Tuma, Harvey Reid, Joyce Andersen, Dan Crary, Larry Conklin, John Renbourn, Paolo Bonfanti, Fabio Treves, Ed Gerhard, Muriel Andersen, Superpickers, Jim & Morning Nichols, Mauro Pagani, Giorgio Cordini, Luigi Grechi, Michael Manring, Peter Rowan, Riccardo Bianchi, Giovanni Monteforte, Edgar Cruz, Isato Nakagawa, Preston Reed, Jacques Stotzem, Roberto Ciotti, Guinga, Pietro Nobile, Phil Palmer, Ralph Towner, Diane ponzio, Maria Zemantauski, Virginia Splendore, Tish Hinojosa, Giovanni Palombo, Eric Lugosh, Irio De Paula, Bluegrass Stuff, Paolo Cattaneo, Gigi Cifarelli, Alain Giroux, J.Luis Mahjun, Michael Fix, Rodolfo Maltese, Massimo Alviti, Angelo "Leadbelly" Rossi, Antonio Lombardi, Davide Mastrangelo, Soig Siberil, Dick Gaughan, Stefano Rosso, Manomanouche Trio, Vincenzo Zitello, Franco Parravicini, Solorazaf, Sid Griffin & The Coal Porters, Chris Lancry, Jacqueline Perkins, Paolo Sereno, Giovanni Pelosi, Reno Brandoni, Marjorie Thompson, Sergio Fabian Lavia, Dilene Ferraz, Marco Di Maggio, Bob Culbertson, Toni Balocco, Gabin Dabirè, Bob Brozman & Renè Lacaille Ensemble, Clive Carroll, Stringology Quartet, Red Wine, Roberto Taufic, Luigi Tessarollo, Franceso Piu, Steve Howe, Stochelo Rosenberg, Salvatore Russo, Phil Leadbetter, Artie Traum, Happy Traum, John Sebastian, Ken Nicol, Marcio Rangel, Deobrat Mishra, Massimo Germini, Tuck & Patti, Davide Mastrangelo, Roberto Ciotti, Diane Ponzio, Roberto Dalla Vecchia, Z-Star, Michael Manring & Cyril Achard, Giovanna Marini, Veronica Sbergia, Max De Bernardi, Mauro Ferrarese, Deobrat Mishra, Prashant Mishra, Giorgio Cocilovo, Christof Linhuber, Clive Carroll, Jacquekine Perkins, Gabin Dabirè, Paul Dabirè, Stefano Ciacci, Massimo Varini & Rossella Zanasi, "Hussy Hicks", Franco Morone & Raffaella Luna, July & Nora Sisters, Giulia Millanta, Betty Verri Trio, "The dream of Butterfly, John Renbourn & Jacqui Mc Shee, Simone Valbonetti, Nico Di Battista, Roberto Fabbri, Antoine Dufour, Massimo Varini, Jackie Perkins, Lou Lou Sisters, Bluegrass Stuff, Duck Baker, Mike Cooper, Ed Gerhard, Bob Brozman, Michael Fix, Hussy Hicks, David Bromberg & Nancy Bromberg, Luigi Grechi, Maurizio Bettelli, Eric Lugosch, Fabrizio Poggi & Chicken Mambo, Sarah Lee Guthrie & Johnny Irion, Beppe Gambetta, Joel Rafael, Nora Guthrie, Francis Kuipers, Massimo Varini, Peppino D'Agostino, Demania Trio,Giua & Armando Corsi, Alex De Grassi, John Gorka, Michael Manring, Sons of the Desert, Victoria Vox, Eileen Rose & Rich Gilbert, Maurizio Geri & Riccardo Tesi, Claus Boesser Ferrari, Maurizio Falcone & Silvano Manco, Rodolfo Maltese & Giovanni Pelosi, Giovanni Baglioni, Max Prandi, Massimo Bubola, Jackson Browne, Andrea Braido, Sergio Altamura, Stefano Barone, Pino Forastiere, Marco Poeta, Paolo Bonfanti, Pietro Nobile, Riccardo Zappa, "Dago Red", Banjo Clan, Diane Ponzio, Giulia Millanta, Massimo Gatti & Leo Di Giacomo, Mike Marshall, "The Kruger Brothers", Soumik Datta & Nico Di Battista, David Essig, Angel Parra, Mauro Di Domenico, Francesco Loccisano quartet, Eugenio Bennato, Lorenzo Favero, Kiko Loureiro, Don Ross, Guillermo Terraza Trio, Ben Powell, Francesco Buzzurro, "Ukulelezaza", "Ukulollo", Dago Red, Paul Moore, Joel Rafael, "Flaco" Biondini, Bob Brozman & Francesco Loccisano, Jorma Kaukonen, David Bromberg, Mark Cosgrove, Marcus Eaton,  Vincenzo Zitello, Tony McManus, John McSherry, Dónal O'Connor, Daniel Shane Thomas, René Lacaille, Graig Thatcher& Nyke Van Wyk, Clive Carroll, Marcus Eaton & Kitch Membery, "Italian Bluegrass All Stars", Chris Proctor, Paolo Schianchi, Juan Lorenzo Trio, Joe Chiarello, Giacomo Lariccia, Carlo Faiello & Paranza Vesuviana, Solorazaf, Oum, Andrea Bozzetto, Gabin Dabirè, Sanjay Kansabanik,  Finaz, "Piccola Orchestra Bandabardò",Andrea Tarquini, Antonio Calogero & Paul McCandless, Dirk Hamilton & The Bluesmen, Paolo Bonfanti & Martino Coppo, Tim O'Brien, Fausto Mesolella, Finaz, Max Gazzè, Stefano Nosei & Andrea Maddalone, Mike Dowling, Ensemble Mereuer, Diane Ponzio, Teresa De Sio, Bob Geldof, Pietro Nobile, Tim Sparks, Alex De Grassi, Giovanna Marini & Francesca Breschi, Eugenio Finardi Quartet, Mark Johnson & Emory Lester, Russ Barenberg, Cristina Donà, Jambolulù Swing Trio, Watermelon Slim, Mauro Palmas, Nando Citarella, Pietro Cernuto, Luca Barbarossa, Ron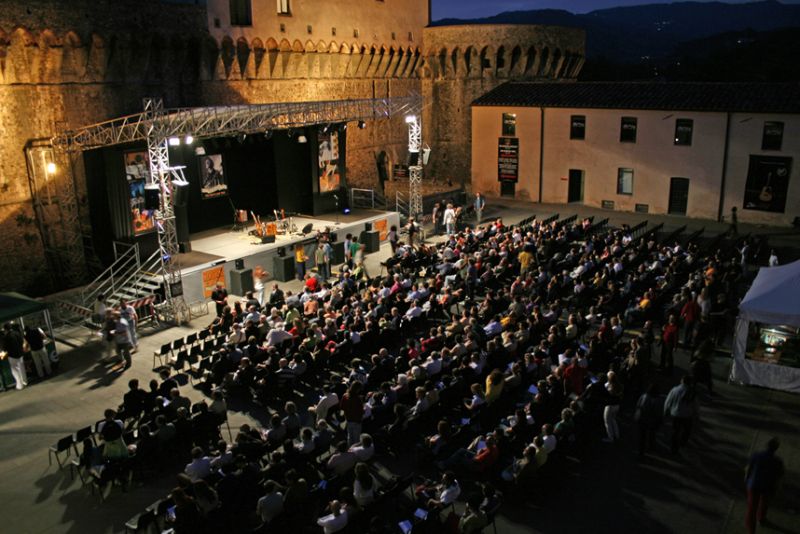 "STRINGS & VOICES for DIALOGUE & CIVIL RIGHTS"  Award
1st edition, May 2009: the Award has been attributed to the memory of WOODY GUTHRIE, father of the new folk song. His daughter, Nora Guthrie, has collected the Award.
2nd edition, May 2010: the Award has been presented to JACKSON BROWNE, who perfomed beautifully for many Italian fans.
3rd edition, May 2011: the Award has been attributed to the memory of VICTOR JARA and VIOLETA PARRA and collected by Angel Parra, Violeta's son.
4th edition, May 2012: the Award has been presented to the Italian songwriter FRANCESCO GUCCINI
5th edition, May 2013: in memory of MIRIAM MAKEBA, presented to the manager Roberto Meglioli and to the Ambassador of South Africa, Ms Nomatemba Tambo
6th edition, May 2014: presented to SIR BOB GELDOF, special guest
7th edition, May 2015: presented to GIOVANNA MARINI, special guest
This award aims to recognise artistic expression in both musical and social fields, and the extraordinary commitment in the fight for civil rights
The Award is a beautiful bronze sculpture of the artist Luigi Mainolfi.