Presentation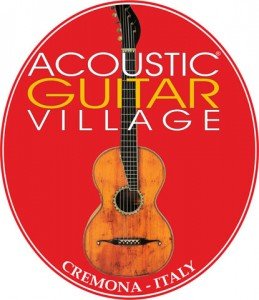 ACOUSTIC GUITAR VILLAGE
inside Cremona Musica International Exhibitions and Festival – CREMONA FAIR
27th-28th-29th September  2019                                                          opening hours: Friday 27th, 10am – 7pm, Saturday 28th, 10am – 7pm, Sunday 29th, 10am – 6pm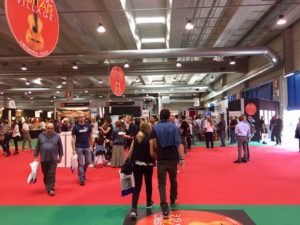 In the exhibition complex of Cremona, inside Cremona Musica International Exhibitions and Festival, from September 27th to September 29th 2019, the ACOUSTIC GUITAR VILLAGE will offer a packed schedule of concerts and events, as well as the extensive exhibition of acoustic, classical and modern guitars and accessories.
Cremona Musica International Exhibitons is the world's most important event regarding high-level handicraft musical instruments, and it's the most effective marketplace in the world for contemporary lutherie: a place where artistic and musical culture find an ideal stage to express themselves.
The guitar will have then its dedicated exhibit area, one of great importance and visibility considering its location, at the entrance of the Mondomusica pavilion; a village with the presence of national and international luthiers, small and big companies and distributors of the most prestigious brands, accessories and publishing. Guitar associations, luthiers associations and unions, and formative institutes and schools will also participate in the event.
Our Association, under the coordination of Alessio Ambrosi, will be curating the artistic and organizational direction, guaranteeing as always the utmost professionalism and competence.
True to the successful format of the years in Sarzana, the event will present several concerts and events, right now in the planning process, on the various stages and dedicated areas. The program will include:
– Masterclass of lutherie and didactic techniques for acoustic guitar
– Contest "NEW SOUNDS OF ACOUSTIC MUSIC"  for acoustic guitarists, guitar-songwriters and emerging acoustic ensemble/bands
– 7th ITALIAN BLUEGRASS MEETING
– BOB BROZMAN MEMORIAL SLIDE CONTEST
– 3rd STRINGS & VOICES D'AUTORE, in the memory of Stefano Rosso
– Woodstock 50th Celebration
– Concerts with international artists
– Historical Exhibitions
– Conferences, workshops, meetings
– Demos and showcases
– CREMONA MUSICA DOWNTOWN, concerts in the historical centre of Cremona
Thanks to the many partners and sponsors that make all of this possible and safe travel to all of those who will be coming in Cremona on 2019 September 27th-28th-29th!
Sound & accessories by Acus-Sound Engineering – Bespeco – Partners: Città di Cremona, "Cremona Musica", Dismamusica, Fingerpicking.net, MEI Meeting Etichette Indipendenti, Roma Expo Guitars, Woodstock Invitational Luthiers Showcase, Holy Grail Guitar Show, Osaka SoundMesse, Vancouver International Guitar Festival, Guitares Au Beffroi – Riviste: "DismamusicaMagazine",  "Chitarra Acustica", "Guitar Club", "Suonare News", "Seicorde",  "Pagine Musica", "Big Box", Guitar Fair Magazine (Spain) Media partner: Fingerpicking.net, MEI
PROGRAM
ACOUSTIC GUITAR VILLAGE
Friday 27th – Saturday 28th – Sunday 29th, in the Masterclass rooms:
– Lutherie masterclass for acoustic Guitar, teachers: Maestro Ken Parker (US),  Maestro Michael Greenfield (Canada),  Maestro Dana Bourgeois (US)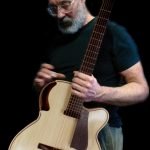 – Masterclass of didactic techniques for acoustic guitar, teachers: Maestro Micki Piperno (Italy), Maestro Pierre Bensusan (France)
info and registration: info@armadilloclub.org  –  phone. +39 0187 626993 – +39 0372 598011 dawnload registration forms on the dedicated page
Friday 27th – Saturday 28th – Sunday 29th, from 10am to 7pm (Sunday to 6pm)  area ACOUSTIC GUITAR VILLAGE, HALL 1:
– EXHIBITION OF LUTHERIE, IMPORT, PUBLISHING AND ACCESSORIES FOR ACOUSTIC GUITAR, CLASSICAL AND MODERN, AND OTHER STRING INSTRUMENTS, with the presence of the best luthiers and guitar brands
– HISTORICAL EXHIBITIONS:
"Sliding on the strings" from the Hawaiian models to the Reso-phonic guitars, from the Lap-Steel to the Pedal-Steel Guitars. The musical instruments using the slide technique, Coordination by Master Luthier Leonardo Petrucci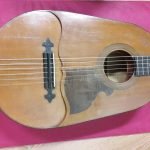 "The Guitars in the centuries" exhibition of historical instruments, curated by Maestro Francesco Taranto and Master Luthier Lorenzo Frignani
"Music is our life" exhibition of ethnical instruments from the world, collected by Maestro Bruno Brunetti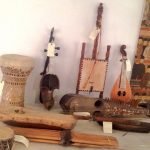 -SPECIAL EVENTS:
– Special event about classical guitar, curated by Marco Ramelli, Gabriele Lodi, Festival Corde d'Autunno, Acoustic Guitar Village, Cremona Musica
work in progress
– 2nd Meeting "The Guitar in Italy between '800 and '900" the Italian instrument in the European development contest, ideated and coordinated by M°Lorenzo Frignani and M°Francesco Taranto
exhibition of historical guitars made by Guadagnini family and Mozzani
-"Sliding on the strings" conference and demo by M° Flavio Pasquetto and M° Leonardo Petrucci
Saturday 28th September, from 11am to 12:30pm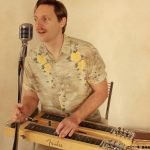 – "Slide-a-go-go" Workshop on the slide guitar curated by Maestro Marco Manusso
Saturday 28th September, from 2pm to 4pm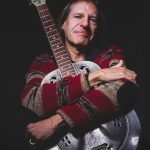 "The seven string", seminar/conference by M° Marcos Vinicius
Sunday 29th September, from 2pm to 4pm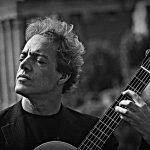 Details and programs visit this page
– CONFERENCES, WORKSHOPS, PRESENTATIONS, MEETINGS inside the special Events Room in the area of the Acoustic Guitar Village
PROGRAM ON THE LIVE MUSIC STAGES:
Friday September 27th
DEMO STAGE 1
from 10am to 7pm
demo-showcases available to the exhibitors
LIVE STAGE 2
from 3pm to 7pm:
"NEW SOUNDS OF ACOUSTIC MUSIC"
contest for emerging acoustic guitarists, singer-songwriters with guitar, acoustic ensembles/bands;
Performers: Marco De Annuntiis, Marta De Lluvia, Valerio Billeri, Miriam Foresti, Gianmaria Simon, Cristiana Verardo (Corde & Voci d'Autore)
Giuseppe Sessa, Gabriele Dusi, Gianluigi Secchi, "Rednaks" Antonino Salamone (solo fingerstylists)
"Mattia Bonetti e i Suonatori in Libertà" (acoustic band)
Davide Andreozzi (special guest)
selections curated by Fingerpicking.net – Armadillo Club – Andrea Tarquini "Strings & Voices d'Autore"
products offered by Taylor Guitars,  Acus-sound Engineering, Transeuropa Recording Studio, Torino

CLASSIC GUITAR STAGE 3
from 10am to 7pm
concerts-showcases available to the master luthiers

Saturday September 28th
DEMO STAGE 1
from 10am to 7pm
demo-showcases available to the exhibitors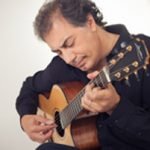 12am: performance of Pierre Bensusan
LIVE STAGE 2
from 10am to 7pm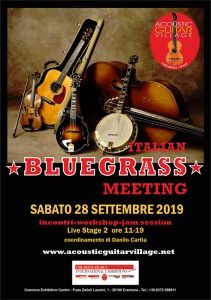 7th ITALIAN BLUEGRASS MEETING
concerts, showcases, meetings, workshops by bluegrass musicians
Performers: Danilo Cartia Band:Danilo Cartia, Jacek Loroch, Manlio Torroni, Bruno Bonarrigo, Valerio Conti
Outcast trio: Dario Lantero, Dino Di Giacomo, Samuel Domeneghini
Once in a while: Marco Pandolfi, Giovanni Stefanini, Dino Di Giacomo, Francesca Alinovi, Paolo Pianezza
Country Chickens: Eugenio Poppi, Massimo Cavazzuti, Carlo Bergamini, Stefano Tassi, Paolo Cattani, Andrea Cesone
Bluegrass Truckers: Pino Siviero, Elio Arlandi, Antonio Esposito
San Brulli Stringband: Samuel Flora, Andrea Laudicina, Riccardo Biondi, Luca Minzon, Federico Pavan
Best Before War: Giorgio Alfano, Matteo Bertaggia, Lucio Stefani, Francesca Alinovi, Marco Mengoni
Spaghetti Grass: Fabio Ragghianti, Livio Guardi, Manolo Cacciatori, Mauro Puliti
The Folding Chairs: Ettore Cardamellis, Maura Tomei, Emilio Tosi, Mirko Cristanelli, Giacomo Lecchi
The Amerique: Giada Masoni, Flavio Benucci
Strings O'Garden: Elisa Boccacci, Filippo Veggetti, Marco Mengoni, Alex Wailin, Chiara Brighenti
Pino e gli Erranti: Pino Campanelli, Sergio Minelli, Stefano Giustinelli, Roberta Bazzani, Gualtiero Stolfini
The Troubadours: Fabio Peretti, Alessandro Perrone
Dalmasso Duo: Marc Dalmasso, Remi Dalmasso
Andrea Vitiello Band: Andrea Vitiello, Pino Ninni, Eda Elher
Lookin' for Susan: Massimo Negri, Claudio Maderna, Alessandro Cederle, Nirvano Barbon
Florence New Grass: Franco Befani, Alessandro Innocenti, Domenico Rossi, Andrea Cennini

special guests: PAUL STOWE (US) & TREVOR MORRISS (UK)
coordinated by Danilo Cartia
partners: Deering Banjo Company, Martin Guitars
CLASSIC GUITAR STAGE 3
from 10am to 7pm
concerts-showcases available to the master luthiers
Sunday September 29th
DEMO STAGE 1
from 10am to 6pm
demo-showcases available to the exhibitors
LIVE STAGE 2
from 10am to 1pm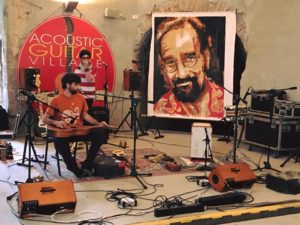 "BOB BROZMAN MEMORIAL SLIDE CONTEST", performances of slide guitarists
performers: PAUL STOWE, STEFANO BERSAN, MARCO MANUSSO, THE HAWAIIAN WIKIKILEAKS DUO (Flavio Pasquetto, steel guitar & Filippo Delogu, guitar)
special guest: Haley Sage Brozman
from 2pm to 6pm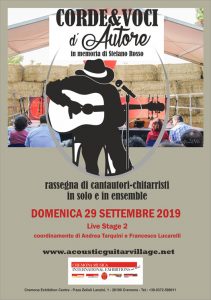 "STRINGS AND VOICES D'AUTORE" in memory of Stefano Rosso, performances by songwriters and guitarists, solo and in ensembles
performers: LINO STRAULINO TRIO (Lino Straulino, guitar and voice – Alessia Valle, voice – Alvise Nodale, guitar), GIUDITTA SCORCELLETTI DUO, DAVIDE VAN DE SFROOS DUO (Davide Van De Sfroos, guitar and voice – Fabio Lossani, guitar and banjo), ANDREA TARQUINI
coordinated by Andrea Tarquini
partner: Taylor Guitars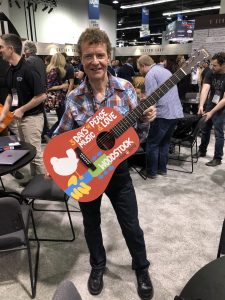 "WOODSTOCK 50th CELEBRATION", performances in memory of the 50th anniversary of the Woodstock Festival in 1969
performers: JACKIE PERKINS (US), JEFF PEVAR & INGER NOVA JORGENSEN (US), FRANCESCO LUCARELLI & STEFANO FROLLANO
coordinated by Francesco Lucarelli
partner: Martin Guitars
CLASSIC GUITAR STAGE 3
from 10am to 6pm
concerts-showcases available to the master luthiers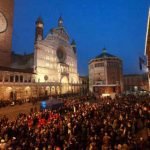 CREMONA MUSICA DOWNTOWN
Concerts and performances in the historical centre of Cremona by artists and bands of the Acoustic Guitar Village
Saturday 28th and Sunday 29th during the day