Presentation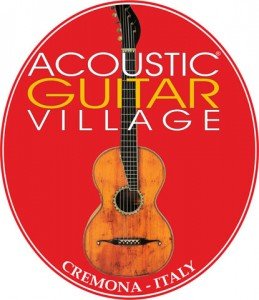 ACOUSTIC GUITAR VILLAGE
Full edition inside Cremona Musica International Exhibitions – CREMONA FAIR
29th, 30th SEPTEMBER -1st OCTOBER 2017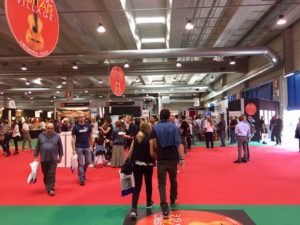 In the exhibition complex of Cremona, inside Cremona Musica International Exhibitions, from September 29th to October 1st 2017, the ACOUSTIC GUITAR VILLAGE will offer a packed schedule of concerts and events, as well as the extensive exhibition of acoustic, classical and modern guitars and accessories.
Cremona Musica International Exhibitons is the world's most important event regarding high-level handicraft musical instruments, and it's the most effective marketplace in the world for contemporary lutherie: a place where artistic and musical culture find an ideal stage to express themselves.
The guitar will have then its dedicated exhibit area, one of great importance and visibility considering its location, at the entrance of the Mondomusica pavilion; a village with the presence of national and international luthiers, small and big companies and distributors of the most prestigious brands, accessories and publishing. Guitar associations, luthiers associations and unions, and formative institutes and schools will also participate in the event.
Our Association, under the coordination of Alessio Ambrosi, will be curating the artistic and organizational direction, guaranteeing as always the utmost professionalism and competence.
True to the successful format of the years in Sarzana, the event will present several concerts and events, right now in the planning process, on the various stages and dedicated areas. The program will include:
– Masterclass of lutherie and didactic masterclass of acoustic guitar
– Contest "NEW SOUNDS OF ACOUSTIC MUSIC" in memory of Stefano Rosso for acoustic guitarists, guitar-songwriters and emerging acoustic ensemble/bands
– 5th ITALIAN BLUEGRASS MEETING
– Concerts with international artists
– Historical Exhibitions
– Conferences, workshops, meetings
– Demos and showcases
The complete program is on the pages of this website and on www.cremonamondomusica.it/acoustic-guitar-village/
We will be very happy to have you as exhibitors and partecipants in the event!
Thanks to the many partners and sponsors that make all of this possible and safe travel to all of those who will be coming in Cremona on 2017 September 29th, 30th and October 1st !
Sound & accessories by Acus-sound – Shure by Prase – Bespeco
Partners: Città di Sarzana, Città di Cremona, "Cremona Mondomusica" – Dismamusica – Fingerpicking.net – Accademia di Chitarra "LIZARD"
Magazines: "DismamusicaMagazine", "Chitarra Acustica", "Guitar Club", "Chitarre", "Strumenti Musicali", "Suonare News", "Seicorde", "Buscadero", "Il Blues", "Pagine Musica", "Big Box", "Il Manifesto"
Media partners: Fingerpicking.net
Program
29th, 30th September-1st October 2017
Work in progress
Masterclass of lutherie for acoustic guitar, classical and modern
teachers: M° Richard Hoover (Usa), M° Jason Kostal (Usa), M° Steve Klein (Usa)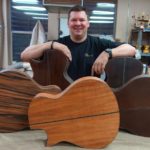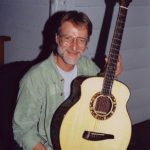 translation and coordination by Master Luthier Max Monterosso and Master Luthier Piero Guagliumi
Masterclass of didactic techniques for acoustic guitar
(Masterclass room 2 at the Cremona Fair offices)
teachers: Eric Lugosch (Usa), Micki Piperno (Ita), Paolo Bonfanti (Ita)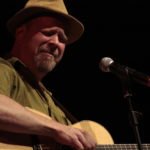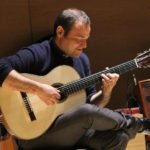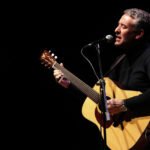 translation and coordination by Micki Piperno and Camilla Conti
For info and registration visit the dedicated page
ACOUSTIC GUITAR VILLAGE Area, inside the pavilion 2,  Cremona Musica International Exhibitions, open from 10am to 7pm (September 29th-30th) – from 10am to 6pm (Sunday October 1st):
-Exhibition of Lutherie, Import, Publishing, Accessories for acoustic guitar, classical & modern, with the presence of the best international luthiers and guitar companies
Exhibitors list
-Historical Exhibition "The old blues guitars" by M° luthier Leonardo Petrucci  and "Guitars in the History" by M° Francesco Taranto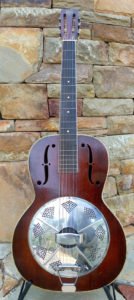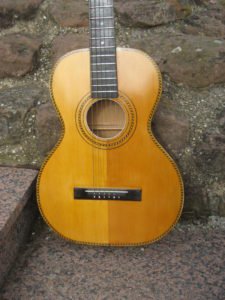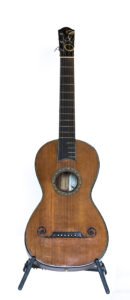 Live events program:
Friday September 29th
DEMO STAGE 1 from 10am to 7pm
demos-showcases at exhibitors disposal
LIVE STAGE 2 from 3pm to 7pm:
contest "NEW SOUNDS OF ACOUSTIC MUSIC"
open to acoustic guitarists, songwriters, acoustic bands
selected by Fingerpicking.net – Accademia Lizard – Armadillo Club
Perfomances of Tommaso Pelliccia, Andrea Minuti, PrismA, Lorenzo Polidori, Francesca Ferrari, John Silver Duo, "Dorem" Giorgio Grazzini, Claudio Cirillo, Cherry in the Mud, Sara Romano, Bacci Del Buono, Going to Samoa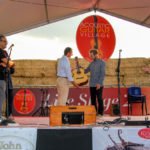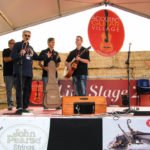 Jury: Andrea Carpi (giornalista), Giovanni Unterberger (Lizard), Reno Brandoni (Fingerpicking.net), Marino Vignali (ADGPA), David Kaye (Taylor Guitars), Letizia Canale (Acus-sound), Gianluca Aramini (Aramini Strum. Mus.), Sara Kismet Del Bubba (Armadillo Club), Steve Klein (liutaio)
Partners: Taylor Guitars, Aramini, Acus Sound, John Pearse Strings
COFFEE STAGE 3 from 10am to 7pm:
concerts, showcases at master luthiers disposal
Saturday September 30th
DEMO STAGE 1 from 10am to 7pm
demos-showcases at exhibitors disposal
LIVE STAGE 2 from 10am to 7pm: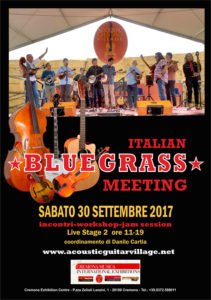 5° ITALIAN BLUEGRASS MEETING
(concerts, showcases, meetings, workshops of bluegrass musicians)
coordinated by Danilo Cartia
special guest: violinist Gilles Apap (France-Algeria)
musicians:
Paolo Cappa, Piero Carbonera, Davide Casera, Alessio Galli, Stefano Protti, Fabio Ragghianti, Livio Guardi, Manolo Cacciatori, Francesco Nicotera, Petr Vrobel
Jiri Kriz, Jiri Seifert, Andrea Cesone, Eugenio Poppi
Massimo Cavazzuti, Paolo Cattani, Stefano Tassi
Carlo Bergamini, Pino Siviero, Antonio Esposito
Marilena Buranello, Mirco Pivanti, Giorgio Osti
Elio Arlandi, Riccardo Biondi, Samuel Flora, Luca Minzon, Andrea Laudicina, Fabio Peretti, Alessandro Perrone, Francois Vola, Bernard Minier, Laurent Paris, Federico Ciosi, Roberto Padula, Gianni Campo, Giovanni Fantonelli, Maura Tomei
Nirvano Barbon, Pino Ninni, Stefano Santangelo, Roberto Dalla Vecchia, Jacek Loroch
Francesco Arzeni, Fabio Mosetti, Fabio Penna, Dario Lantero, Dino Di Giacomo, Pino Campanelli, Gualtiero Stolfini, Roberta Bazzani, Sergio Minelli, Emilio Vellati, Gabriele Bazza, Martino Giordano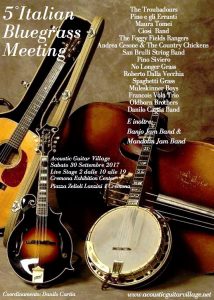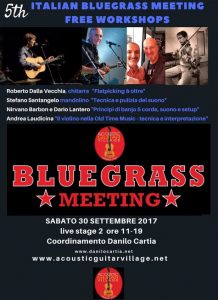 COFFEE STAGE 3 from 10am to 7pm
concerts, showcases at master luthiers disposal
Sunday October 1st
DEMO STAGE 1 from 10am to 6pm
demos-showcases at exhibitors disposal
LIVE STAGE 2 from 10am to 6pm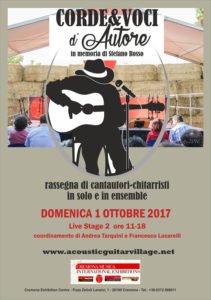 "STRINGS & VOICES D'AUTORE" in the memory of Stefano Rosso
Songwriters Show,  in solo and in ensemble
coordinated by Andrea Tarquini e Francesco Lucarelli
musicians:
Andrea Labanca, Sara Velardo, Stefano Fedele, Anita Camarella & Davide Facchini, Francesco Lucarelli, Claudio Sanfilippo, Milena Piazzoli, Federico Sirianni, Liana Marino, Andrea Tarquini
Special guests: Diane Ponzio, Max Manfredi
Journalists present:
Enrico De Angelis, Giorgio Maimone, Paolo Pasi, Gianni Zuretti, Alessio Ambrosi, Andrea Carpi, Roberto D'Elia (liutaio), Martin Guitars, Taylor Guitars
Award: 12 strings guitar made by luthier Roberto D'Elia, Erredì Guitars
COFFEE STAGE 3 from 10am to 6pm
concerts, showcases at master luthiers disposal
Friday September 29th
TEATRO PONCHIELLI OF CREMONA
from 9pm, CREMONA MUSICA INTERNATIONAL EXHIBITIONS presents
GALA CONCERT with
DIANE PONZIO (US)
FINAZ (IT)
TUCK & PATTI (US)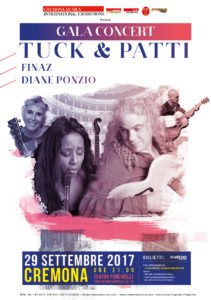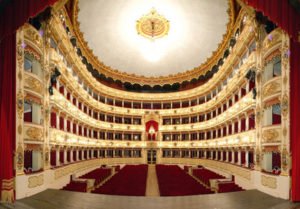 Artists
DIANE PONZIO (US)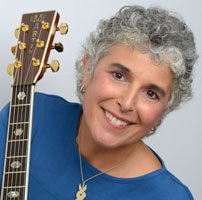 is a singer-songwriter and guitarist, born and raised in New York City. She graduated from the "Fame School of Performing Arts" and honed her skills as a performer in the cafes and clubs on the well-known Bleecker Street in Greenwich Village. Diane writes her songs, characterized by pop/jazz/folk influences, to carry the listener away in an undoubtedly fascinating journey. Diane's impressive talent as a guitar player inspired the company Martin Guitars to choose her as an international representative, making her travel in every part of the world as a demonstrator and ambassador of the prestigious brand. Like a global minstrel, Diane performs every year in more that 100 concerts in the US, in Germany, in Great Britain, in Austria, in Italy, in New Zealand, and she has recorded 7 albums of original music.
FINAZ (IT)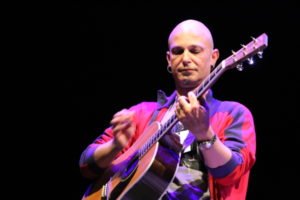 is the guitarist of the Italian band Bandabardò, and has collaborated, both in studio and in live performances, with many other artists such as Carmen Consoli, Daniele Silvestri, Max Gazzé, Paola Turci, Dolcenera, Goran Bregovic, Piero Pelù, Modena City Ramblers, David Sylvian, C.S.I., Caparezza, Moni Ovadia, Franco Battiato, Daniele Sepe, Orchestra di Piazza Vittorio, Roy Paci, Stefano Bollani, Tonino Carotone, Patty Pravo, Stefano "Cisco" Bellotti, Casa del vento, Giobbe Covatta, Dario Fo, Franz di Cioccio, Tony Esposito, Folkabbestia, Peppe Voltarelli, Marco Calliari, Bob Ezrin.
TUCK & PATTI (US)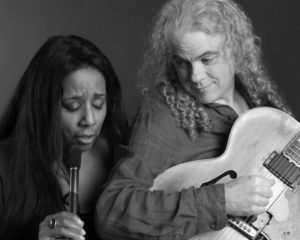 still very successful after 35 years, Tuck Andress (guitar) and Patti Cathcart, best known as Tuck & Patti, gained public attention with their first album "Tears of Joy", surprising guitarists and pop radio stations with their cover of Cyndy Lauper's "Time After Time". Patti's folk, gospel and rhythm'n'blues origins unite with Tuck's jazz education. Her vibrant alto voice and scat improvisation combine with his guitar virtuosity that manages to simultaneously play chords, bass-line and melody. A rare complementarity between voice and guitar that become one: a beautiful union, refined and minimalist, musically eclectic and varied, in which Patti writes and arranges and Tuck is the orchestra. Tuck and Patti met in 1978 in a band in San Francisco. "I was already in the band," says Tuck, "and one day Patti came for an audition. She came in, said hello to everyone and we started playing. After just a few seconds of listening to her sing, I knew I had found my musical soulmate".
Maps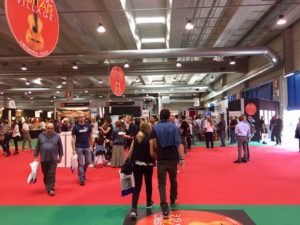 Didactic Courses-Workshops-Masterclasses
MASTERCLASSES/WORKSHOPS AT THE ACOUSTIC GUITAR VILLAGE in contemporary of CREMONA MUSICA INTERNATIONAL EXHIBITIONS – CREMONA FAIR
September 29th, 30th , October 1st 2017
for info: info@armadilloclub.org
Masterclass of lutherie for acoustic guitar, classical and modern
(Masterclass room 1 at the Cremona Fair offices)
teachers:  M° Jason Kostal (US), M° Richard Hoover (US), M° Steve Klein (US)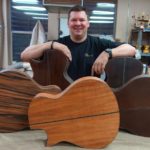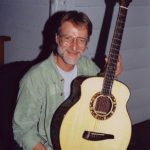 translation and coordination by Master Luthier Max Monterosso and Master Luthier Piero Guagliumi
open to all luthiers and guitar maker lovers – total registration price: € 180,00
Masterclass of didactic techniques for acoustic guitar
(Masterclass room 2 at the Cremona Fair offices)
teachers: Eric Lugosch (US), Micki Piperno (IT), Paolo Bonfanti (IT)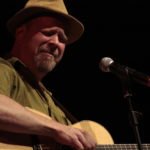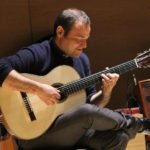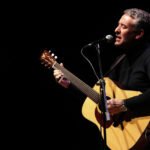 translation and coordination by Micki Piperno and Camilla Conti
open to all acoustic guitarists – total registration price: € 180,00
Lutherie Masterclass program: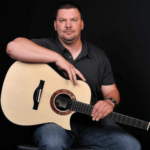 from 10am to 1pm of every day, M° JASON KOSTAL (US) presents:
"A Modern Approach to traditional building methods
(How we have changed and adapted to build modern luthier made instruments)"
Jason Kostal was introduced to the world of guitar building by Kent Everett of Everett Guitars while he was finishing his MBA at Emory University. He has been building guitars since, learning and working with several luthiers, gaining experience culminating in a two and a half year apprenticeship with the renowned Master Luthier Ervin Somogyi, from whom he was able to learn the most current techniques for building, voicing and refining the instrument while taking it to new levels in artistic expression, continually refining his design process and improving upon the capabilities of his guitars to meet the demanding needs of the musicians.
He is now working independently in the Phoenix area, building a small number of custom instruments each year.
His guitars are the culmination of 30 years of playing experience as a performing fingerstyle guitarist coupled with a desire to make the best possible guitar for discerning musicians that value craftmanship, attention to detail, and unparalleled sound in a custom built package.
1st day: Overview of what we consider to be a traditional/ Martin style Steel string guitar
– X-Brace/ Top Braces
– Back Braces
– Top and Back construction techniques
– Dovetail joints
– Side thickness and bending
– Truss rods
– Frets
– Tuning machines
– Saddle and Nut construction
– Headstock angle
– Bridge construction and bridge pins
– String choices
2nd day: Modern Building techniques
– X-Brace/ Top Braces/ new bracing patterns and ideas
– Back Brace material and dimensions
– Top and back construction techniques
– Neck joints: Bolt on, Dovetail, Mortise and Tenon, Bourgeois style, Hybrid, Negative angle
– Side thickness/ bending/ laminating: Bending, Laminating, Materials, softeners
– Truss rods/ graphite rods
– Frets and fret material
– Tuning machines
– Saddle and nut construction: Width, material
– Headstock angle
– Bridge construction: Pinned, Pinless
– String choices
– Adhesives: CA Glue, Poly glues, Hide Glue, Epoxy resin
– Cases: materials and considerations
3rd day:
– Why does it all matter/ Is one better than the other?
– Questions
from 2:30pm to 5:30pm of Friday Sept 29th and Saturday Sept 30th, M° RICHARD HOOVER (US) presents:
"The art of the contemporary acoustic guitar making of excellence"
Luthier Richard Hoover began learning his craft in the 1960s, and became well known in his home town of Santa Cruz, California, after having run his own guitar repair and manufacturing shop for several years. In the early 70s there was little information on building steel-string guitars available, and builders like Hoover, Bob Taylor, Jean Larrivée and Michael Gurian started collaborating, sharing ideas, tools, and techniques as they discovered them. Hoover also learned from reading an "armload of books on how to make violins" and learned techniques on wood finishes from a Swedish finish carpenter. He is reputed to have "trained some of the most accomplished contemporary luthiers in his workshop".
In 1976 Hoover was approached by investors Bruce Ross and William Davis, who wanted to start their own acoustic guitar company. Hoover had made his own guitar and he was invited to be part of the team and "Santa Cruz Guitar Company" was founded. Years later, Hoover became the only owner.
During their entire history the company has paid high attention to detail, and kept their size limited to be able to make each instrument sound its best. They have worked diligently on developing new designs and understanding of materials to allow for a greater variation in tone, because where traditional guitars were required to produce a certain amount of volume in order to compete with other instruments, smaller bodied guitars can now be amplified with a microphone if necessary.
Among the great guitar players with a custom made Santa Cruz guitar are Eric Clapton, Doc Watson, Tony Rice, Warren Haynes, Elvis Costello and many others.
1st day:
– The benefits of tap tuning/hand voicing, dovetail neck joints and a team concept when it comes to guitar building
– The importance of choosing tone wood with potential. How responsible wood practices via reclamation of old growth and sustainable yield programs is a way to obtain superior sounding woods
2nd day:
– How to design a custom guitar to truly control playability and function
– How to develop the ability to accommodate the players aesthetic requirements while keeping to established design principals
– How to keep complete control of the players preferences of the elements of sound and with no compromise to the universally prized sustain and a rich and rewarding complexity of overtones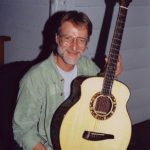 from 2:30pm to 5:30pm of Sunday Oct 1st, M° STEVE KLEIN (US) presents:
"50 years of non traditional guitar design"
Steve Klein has been called the most innovative guitar designer of the last two hundred years. His work has formed an entirely new grammar for the acoustic steel-string guitar. From his earliest artistic inclinations to his interactions with world-renowned musicians, he has always impressed for his rare ability to create designs with original vision that simultaneously respect and advance the traditions of lutherie.
"Steve is one of those rare individuals who has gracefully bridged the gap between lutherie as an art and guitar building as a commercial enterprise!" – C.F. Martin IV
3rd day:
– The discussion will be open to everything, from guitar design techniques to Steve's unique approach to getting feedback and selling guitars to many popular musicians, from the "60s" to today
Together with Richard Hoover they will tell their overlapping history of California guitar making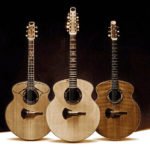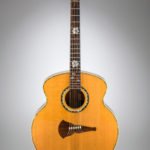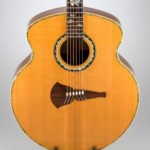 Didactic techniques masterclass for acoustic guitar  program: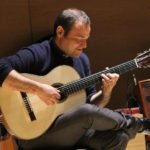 from 10am to 1pm of every day, M° MICKI PIPERNO presents:
"Traditional and hybrid techniques in favor of a new contemporary language"
Michelangelo "Micki" Piperno is an acoustic guitar teacher, an internationally known performer and a composer of contemporary music. With his steel string guitar, he combines the sound and knowledge of the American guitar tradition with echoes of classical and Mediterranean guitar, at the service of song and melody, that he deems essential to communicate the world of acoustic guitar.
He has worked as a composer for cinema, television and theatre, also writing didactic articles for specialized magazines Chitarre and Axe. He has published for Sinfonica Jazz the manuals Manuale di chitarra moderna and Suonare la Teoria – voll.1 & 2, Corso Completo di Chitarra Acustica, Lezioni di chitarra Acustica e Classica Fingerstyle Vol. 1, and for Fingerpicking.net the books of original compositions for acoustic guitar Original Composition and Freestyle.
1st day:
– Fundamental fingerstyle techniques
– Basic and advanced right-hand
– Techniques in common with classical guitar
– Alternate bass, different formulas and possibilities of use
– The correct respiration during the execution phase
– The musical brain
2nd day:
– Outline of the American traditional repertoire
– Analysis and collective study of a famous piece from the official literature
– Grace notes and improvisation elements on the piece just learned
– Advanced techniques of alternate bass
– Ground bass
– How to transfer some effective classical guitar techniques on the acoustic guitar
3rd day:
– Harmonics
– Country Blues
– The Walking Line Bass
– Study of a piece of the fingerstyle Blues tradition
All the study material for the course will be available for download on the websites https://acousticguitarvillage.net/www.cremonamondomusica.it/acoustic-guitar-village/ and https://acousticguitarvillage.net/en/cremona-2017/2013-editiondidactic-courses/
after registering to the masterclass.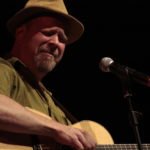 from 2:30pm to 5:30pm of Friday Sept 29th and Saturday Sept 30th, M° ERIC LUGOSCH (US) presents:
"Arranging Pieces for fingerstyle Guitar"
Eric Lugosch has been teaching classes on fingerstyle guitar at the renowned Old Town School of Folk Music in Chicago for over twenty-five years. He has written articles for Acoustic Guitar and Fingerstyle Guitar magazines, and currently writes for Fingerstyle Journal. Eric created a series of online lessons called the "Fingerstyle Academy" based on his classroom teachings that have been praised by guitar students around the world.
In his workshop, Eric will be challenging beginner to advanced players with new but accessible ideas in playing their instruments. Participants will learn tunings, right hand techniques and insights on arranging for fingerstyle guitar. Participants will receive sheet music and hands-on instruction geared toward the students' level. A way to record or videotape material covered in class is recommended.
All the music presented is for beginners to advanced players.
Eric Lugosch is a hands on instructor and will take time to address each student individually while taking part in this workshop.
1st day: The importance of the right hand
– getting to know the students' points of interest and level ability
– explanation of distinctly different "right hand" approaches: "pattern picking", "thumb frailing techniques" "brush picking" "one, two and three fingered techniques" used by masters such as Doc Watson, Reverend Gary Davis, Leo Kottke and others
– applying what we just learned to the students' own playing and repertoire: going over the finer points of the tunes we have been working on and applying them in a practical manner to what the student already knows.
2nd day: Arranging techniques and harmonic devices
– Presentation of different ideas on how to arrange tunes and songs for fingerstyle guitar
– Learning short "student" versions of some pieces, showing their harmonic chord structure
– How to extend the shorter "student" versions that were presented earlier into full scale arrangements
– the use of harmonic devices such as diatonic bass and chromatic bass lines to support the melody as well as right hand pedal note and half note techniques to add diversity and dynamics to their playing
All transcriptions will be available three months before the workshop as well as MP3's. Interested students can find out more about Eric Lugosch and his Fingerstyle Academy by going to his website at www.ericlugosch.com and they can also see him play some tunes at https://acousticguitarvillage.net/www.youtube.com/ELugosch.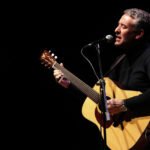 from 2:30pm to 5:30pm of Sunday Oct 1st, M° PAOLO BONFANTI presents:
"Magic of the slide sound"
Paolo Bonfanti is a guitarist, singer and music producer, very active in Italy and one of the best exponents of blues, country and bluegrass. He has several tours under his belt, as a solo artist as well as with other known Italian musicians, and he stands out for his ability on particular and effective techniques on the guitar. He is specialized in the bottleneck/slide technique, one of the most interesting and somehow surprising ways of playing guitar; the origin is ancient but its evolution through time has revealed its endless possibilities in timber and expressiveness.
This workshop will attempt to cover all the most important themes and aspects of this approach.
3rd day:
– choice of the material (glass, metal, ceramic)
– handhold (pinkie finger, ring finger or middle finger)
– how to use the bottleneck (placing on the strings, string muting, movements on single or multiple strings)
– open tunings
– scales and arpeggios
– phrasing examples
– examples of blues pieces
– combination of rhythm and solo parts with the bottleneck
– examples of phrasing in the style of the main bottleneck masters
– examples of advanced styles and techniques
– "modal" and "mixed" tunings
– elements of composition/arrangement using the bottleneck
CONFERENCES – WORKSHOPS – PRESENTATIONS PROGRAM: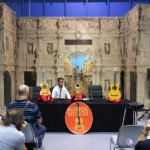 Friday September 29th
-"The 12-string guitar, Leadbelly's beloved instrument: how italian lutherie, the franciscan colonization in Mexico and border-music influenced the birth of this particular model of guitar with its unmistakable voice, now part of the history of blues, country, rock, and pop" curated by M° luthier Leonardo Petrucci
–"Guided listenings from Guadagnini and Torres to modern guitar" curated by M° F.Taranto with the partecipation of M° luthier Lorenzo Frignani
–"The new sets of strings for classical guitar by Aquila Corde Armoniche in different keys high and low: impact in musical education, in concert and in composition" curated by Mimmo Peruffo, Aquila Corde
Saturday September 30th
–Presentation of the book "Il Re del Blues" the blues explained to kids, Curci edition, curated by Reno Brandoni and Laura Moro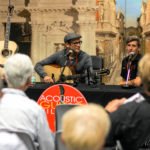 –"To remember Bill Collings, a genius of the contemporary 6-strings" with Doug Chandler, Richard Hoover (Santa Cruz Guitars), Jean Larrivée, Steve Harvey (Martin Guitars), Ignazio Vagnone
–"Work for musicians of 2000: old professions that die, new professions that arise" curated by Giovanni Unterberger, founder of Accademie Musicali Lizard and Miki Bianco
–"Antonio De Torres the great master" curated by Gabriele Lodi with exhibits of original instruments and musical participation curated by the young talent Zlatko Josip Grgić. Introduction by Virginia Villa and Giovanni Accornero, with the collaboration of  the Museum of Violin of Cremona.
–"The Acoustic Guitar in Conservatory" curated by M° Micky Piperno, with the partecipation of Andrea Carpi
Sunday October 1st
–"Classical Guitar in Italy: Pietro Gallinotti, influence on concertism and didactics" curated by M° Bruno Giuffredi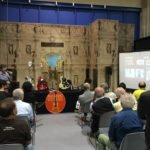 -"100 years of Jazz archtop guitar: the protagonists, the instruments, the luthiers and the musical style of the guitar aesthetically close to string instruments" curated by Carmelo Tartamella
–Presentation of the series "Studies and Educational Pieces from Past Guitar Masters" Ut Orpheus editions, curated by M° Lucio Matarazzo with guitar participation by M° Marco Caiazza
–Presentation Guitar in silk and carbon fiber curated by Luca Alessandrini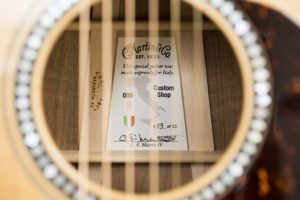 This weekend the Acoustic Guitar Village, inside Cremona Music Festival, opens its doors again, giving visitors the opportunity to see a large collection of Martin guitars. Taking centre stage among the range will be a very special 'Guitar for Italy', which has been co-designed by Martin Guitar's Custom Shop and EKO Music Group. Recent weeks have seen international Martin Guitar ambassador, Massimo Varini, spend time at EKO Music testing and evaluating the guitars, choosing for himself his personal favourite from a total of 33. Massimo will be overseeing the launch of the guitar in front of Martin lovers and dealers at the Acoustic Guitar Village on the main stage on Saturday 30th September and Sunday October 1st at 12.30pm and at the Martin booth Friday 29th September and Saturday 30th at 3.30pm. Those wishing to be present when a special player performs on a special guitar should be there.
The 000-28I is a Koa-backed model limited to just 33 pieces, and is being seen for the first time at Cremona. This exceptional model features a VTS top, three-piece back with a Cherry wedge, HD-28-style herringbone binding, and open-geared Gotoh gold-coloured tuners. The rear of the headstock is also home to a genuine 500 Lira coin from 1985, originally released to celebrate the European Year of Music. The internal label for each guitar has been personally signed by CF Martin IV, CEO and Chairman of C.F. Martin & Co. "Cremona has a unique place in the history of musical instrument making and is therefore a fitting place for the launch of this special model", commented Chris Martin before adding, "CF Martin Sr. and Stradivari shared a driving passion for perfection of tone. Though Martin came later, the dedication to the construction methods and materials is parallel, in fact spruce and maple played a big role in the success of both luthiers and their tonal works of art. So there is an obvious synergy between Martin and Stradivari, which is something we are justly proud of".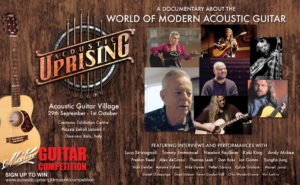 During the breaks in the events room area, it will be showed the movie "Acoustic Uprising", produced by Jenny McCloy for Fingerstyle Movie Pty Ltd
Acoustic Uprising looks at the innovative new approach to acoustic guitar known as FingerStyle. Recently this style has risen to prominence on Youtube and social media, startling and delighting millions due to it's mesmerising manipulation of the ubiquitous acoustic guitar. Through the viral nature of Youtube and the transcendent nature of their music— FingerStyle has ignited a guitar community like no other. A community of guitarists who share a passion for pushing the boundaries of the instrument and themselves to ever greater heights.
Acoustic Uprising features interviews with internationally renowned artists like Tommy Emmanuel, Kaki King, Newton Faulkner, Sungha Jung and Andy McKee.
An inspiring story about the power of community as much as musical performance, Acoustic Uprising shows how social media is enabling and encouraging a new generation to express themselves artistically like never before, whilst also fuelling a rapidly evolving culture of innovation that is pushing this style of music to ever greater heights.
Here is a link to the trailer for the film https://vimeo.com/221735055
---
A GREAT SUCCESS FOR THE AGV INSIDE CREMONA MUSICA INTERNATIONAL EXHIBITIONS 2017!
Dear friends,
the Acoustic Guitar Village inside Cremona Musica International Exhibitions has just ended and we are very happy with the results obtained! More than 17.000 people have attended the Cremona Musica and all of them have visited the AGV, which enriched the all event with about 200 musicians in the various performances on the stages and with 900 sqm of guitar exhibition area. The best luthiers, brands and companies were present, Italians and from all over the world…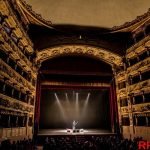 The opening Gala Concert in the wonderful Teatro Ponchielli of Cremona has been the right aperitif of an increasingly important event in the field of international music fairs. Great success and beautiful performances of the NYC songwriter Diane Ponzio, of the acrobatic guitarist Finaz and of the well known virtuoso international duo Tuck & Patti. We will all remember the concert for a long time!
A great thank you to those who contributed to the success of the Acoustic Guitar Village 2017: to the exhibitors who, hopefully but we are convinced of it, have achieved good results from the commitment of the event; to all the musicians who did a lot of miles to reach Cremona but they themselves had fun and they brought to the event joy and great professionalism; to the various AGV collaborators and to the staff at the Cremona Fair, always timely and perfect in the outfits; finally to our staff: so much effort, but great satisfaction for the results achieved!
We are looking forward to the Acoustic Guitar Village 2018 inside Cremona Musica: September 28th-29th-30th!