Presentation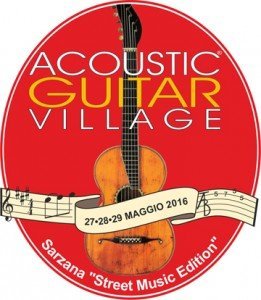 ACOUSTIC GUITAR VILLAGE
"Street Music Edition"
SARZANA Historical Center and Firmafede Fortress
27th-28th-29th MAY 2016
Dear friends,
following our newsletter in which we announced important changes to the Acoustic Guitar Meeting after 18 years in Sarzana (La Spezia) Italy, here we are with the latest information and a preview of the new developments to the event.
As previously announced, the event, aligned with the name ACOUSTIC GUITAR VILLAGE, will have an edition in Sarzana on the 27th-28th-29th May 2016, focused on concerts, live performances, jam sessions, etc in the squares and streets of the city, and the "full edition" at the Cremona Exhibition Centre, held simultaneously with Cremona Mondomusica on the 30th September to the 2nd October2016, with all the usual events developed over the years, including the largest exhibition of guitar building, import, vintage, publishing and accessories. The best luthiers and the best international companies will meet in Cremona to showcase acoustic guitars of high quality, classical and modern, accessories and new products in the sector, within the presence of the best luthiers, guitar makers and international companies.
www.acousticguitarvillage.net – www.cremonamondomusica.it
In Sarzana, on May 27-28-29 it will take place an appointment with the fans of the acoustic guitar, a rich preview of what ultimately will happen in Cremona at the end of September.
During the day and evening the squares and streets of Sarzana will host numerous stages and live musical entertainment, with the acoustic guitar as the main protagonist.
The days will end with evening jam sessions in various locations of the City. Many musicians will be involved, certainly a completely new look to the event but definitely not to be missed!
Have a good trip to Sarzana on 2016, May 27-28-29!
Sound & accessories by FBT Elettronica – Acus-sound – Shure by Prase – Bespeco
Partners: Città di Sarzana, "Cremona Mondomusica" – "Mondomusica New York" – Dismamusica – Fingerpicking.net – Accademia di Chitarra "LIZARD" – A.D.G.P.A. of Italy
Magazines: "DismamusicaMagazine",  "Chitarra Acustica", "Guitar Club",  "Chitarre", "Strumenti Musicali", "Big Box", "Suonare News", "Seicorde", "Buscadero", "Il Blues",  "Pagine Musica", "Big Box"
Media partners: Fingerpicking.net – MEI-AudioCoop – Folk Bulletin – Mentelocale.it – Radio Babboleo – Blue Liguria
Program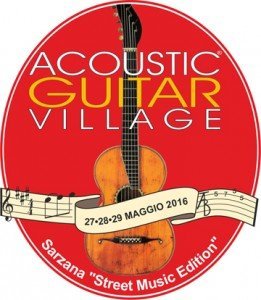 SARZANA, 27th-28th-29th MAY 2016
OPEN STAGE 1: Piazza Matteotti (Comune of Sarzana)
OPEN STAGE 2: Piazza Garibaldi (Piazza of the Teatro degli Impavidi)
OPEN STAGE 3: Piazza Fabrizio De Andrè
MAIN CENTRAL STAGE: Fortezza Firmafede
FRIDAY MAY 27
Open stage 2 Piazza Garibaldi
from 11am to 7pm:
contest "NEW SOUNDS OF ACOUSTIC MUSIC" in memory of Stefano Rosso
contest for fingerstylists – songwriters – acoustic bands
– from 9pm concerts in the clubs of Sarzana
SATURDAY MAY 28
Open stage 1 Piazza Matteotti
from 10am to 7pm: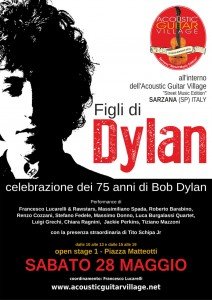 "SONS OF DYLAN" Celebration of the 75th birthday of Bob Dylan
performances of: Francesco Lucarelli & Rawstars, Massimiliano Spada, Roberto Barabino, Renzo Cozzani, Chiara Ragnini, Stefano Fedele, Massimo Donno, Jackie Perkins (Usa), Luca Burgalassi Quartet, Luigi Grechi, Tiziano Mazzoni.
Special guest: Tito Schipa Jr
Coordinated by Francesco Lucarelli
Open stage 2 Piazza Garibaldi
from 10am to 7pm: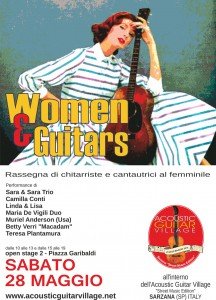 "WOMEN & GUITARS" Concert of female guitarists and songwriters
performaces of: Sara & Sara Trio, Camilla Conti, Linda & Lisa, Maria Devigili, Muriel Anderson (Usa), Betty Verri "Macadam", Teresa Plantamura
Open stage 3 Piazza F. De Andrè
from 3pm to 7pm:
Performances of the students of SCUOLACUSTICA, created by  Fingerpicking.net
coordinated by Giuseppe Tropeano and Reno Brandoni
Main central stage Fortezza Firmafede
from 9pm, in concert:
SUKARMA (Nepal)
MURIEL ANDERSON (Usa)
TITO SCHIPA Jr
VITTORIO DE SCALZI & ANDREA MADDALONE
PAOLA TURCI
performance nelle strade di Sarzana di Paolo Sgallini "One man band"
SUNDAY MAY 29
Open Stage 1 Piazza Matteotti
from 10am to 7pm: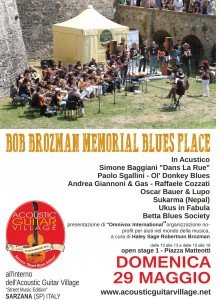 BOB BROZMAN MEMORIAL BLUES PLACE
performances of: In Acustico, Simone Baggiani "Dans La Rue", Ol' Donkey Blues, Andrea Giannoni & Gas, Raffaele Cozzati, Oscar Bauer & Lupo, Sukarma (Nepal), Ukus in Fabula, Betta Blues Society
presentation of "Omnivox International", a no-profit organization to help poor musicians in the world.
Created and coordinated by Haley Sage Robertson Brozman
Open stage 2 Piazza Garibaldi
from 11am to 7pm:
Andrea Tarquini Trio,
"Ricordo di Rodolfo Maltese" with Giovanni Pelosi & special guests
Danilo Cartia Trio, presentation of the 4th Bluegrass Meeting, scheduled inside the AGV of Cremona, Saturday October 1st 2016
Open stage 3 Piazza F. De Andrè
from 10am to 1pm:
PERFORMANCES of the students of SCUOLACUSTICA, created by  Fingerpicking.net
coordinated by Giuseppe Tropeano and Reno Brandoni
performances in the streets of Paolo Sgallini "One man band"
– from 9pm concerts in the clubs of Sarzana
Artists
SATURDAY MAY 28
Main central stage Fortezza Firmafede of Sarzana
from 9pm, in concert:

VITTORIO DE SCALZI & ANDREA MADDALONE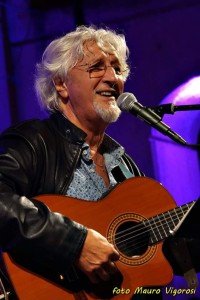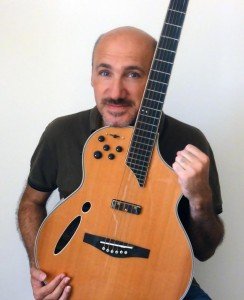 SATURDAY MAY 28
Open stage 1 Piazza Matteotti
from 10am to 7pm: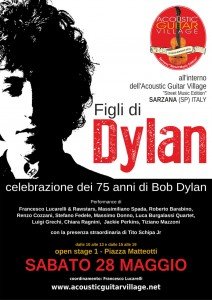 "SONS OF DYLAN" Celebration of the 75th birthday of Bob Dylan
performances of: Francesco Lucarelli & Rawstars, Massimiliano Spada, Roberto Barabino, Renzo Cozzani, Chiara Ragnini, Stefano Fedele, Massimo Donno, Jackie Perkins (Usa), Luca Burgalassi Quartet, Luigi Grechi, Tiziano Mazzoni.
Special guest: Tito Schipa Jr
Coordinated by Francesco Lucarelli
Open stage 2 Piazza Garibaldi
from 10am to 7pm: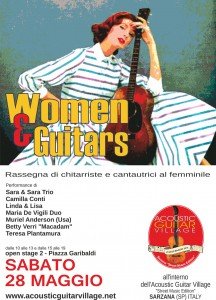 "WOMEN & GUITARS" Concert of female guitarists and songwriters
performaces of: Sara & Sara Trio, Camilla Conti, Linda & Lisa, Maria Devigili, Muriel Anderson (Usa), Betty Verri "Macadam", Teresa Plantamura
Open stage 3 Piazza F. De Andrè
from 3pm to 7pm:
Performances of the students of SCUOLACUSTICA, created by  Fingerpicking.net
coordinated by Giuseppe Tropeano and Reno Brandoni
performances in the streets of Paolo Sgallini "One man band"
SUNDAY MAY 29
Open Stage 1 Piazza Matteotti
from 10am to 7pm: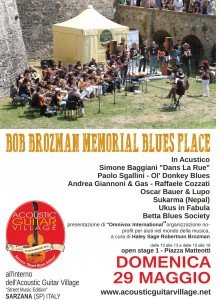 BOB BROZMAN MEMORIAL BLUES PLACE
performances of: In Acustico, Simone Baggiani "Dans La Rue", Paolo Sgallini, Ol' Donkey Blues, Andrea Giannoni & Gas, Raffaele Cozzati, Oscar Bauer & Lupo, Sukarma (Nepal), Ukus in Fabula, Betta Blues Society
presentation of "Omnivox International", a no-profit organization to help poor musicians in the world.
Created and coordinated by Haley Sage Robertson Brozman
Open stage 2 Piazza Garibaldi
from 11am to 7pm:
Andrea Tarquini Trio,
"Ricordo di Rodolfo Maltese" with Giovanni Pelosi & special guests
Danilo Cartia Trio, presentation of the 4th Bluegrass Meeting, scheduled inside the AGV of Cremona, Saturday October 1st 2016
Open stage 3 Piazza F. De Andrè
from 10am to 1pm:
PERFORMANCES of the students of SCUOLACUSTICA, created by  Fingerpicking.net
coordinated by Giuseppe Tropeano and Reno Brandoni
performances in the streets of Paolo Sgallini "One man band"
– from 9pm concerts in the clubs of Sarzana
PHOTO GALLERY: