"NEW SOUNDS OF ACOUSTIC MUSIC", 2023
Young guitarists contest, open to fingerstylists, acoustic bands, inside Acoustic Guitar Village 2023.
The contest will take place inside the Acoustic Guitar Village in Cremona Musica on Friday September 22nd, Live Stage 2 outside the pavilion of the AGV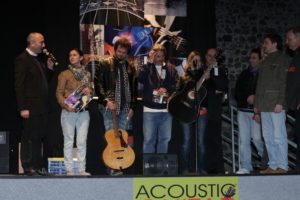 Performers:
Mattia Fiore, Alessandra Formica, Tommaso Doglia, Ivan Ruggeri, Alvise Nodale, Luca Valenti, Tamì, Stefano Migneco, "Drastic Over" (band), Alessandro Cescutti & Matteo Accaria (band)
 Jury formed by:
Andrea Carpi (Fingerpicking.net), Reno Brandoni (Fingerpicking.net), Marino Vignali (ADGPA), Martina Gozzini (Miniera Acustica), Matteo Bergamini (Taylor Guitars), Letizia Canale (Acus-sound), Jackie Perkins (songwriter), Alberto Grollo (guitarist), Chris Jenkins (luthier), Alessio Ambrosi- Sara Kismet Del Bubba Acoustic Guitar Village (Armadillo Club)
The best  performers will win musical instruments and accessories offered by Taylor Guitars, Acus-sound Engineering and other musical instruments companies.
Welcome to the New Sounds of Acoustic Music in Cremona!