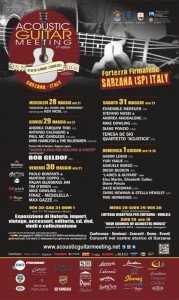 The full program of the concerts and activities during the 17th edition of the Acoustic Guitar Meeting in Sarzana has been published.
Visit the program page
The "Strings & Voices for Dialogue & Civil Rights" will be awarded to Bob Geldof, special guest at the AGM.
Few stands are still available in the acoustic guitars exhibition area and the subscriptions for the lutherie and guitar/ukulele didactics are open.
Tickets for the evening concerts will be available very soon.
Please view the poster and visit the web pages at the 2014 edition link.
See you soon in Sarzana!